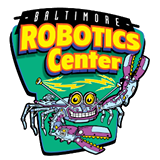 On March 15th, 2016, Danko Arlington hosted a group of students from the Baltimore Robotics League.
The League assists local kids to design and compete their home-made robots for local and national competitions.  Coincidentally, the League is based out of an renovated building that was once part of the B&O Railroad's Mount Clare Shops which was one of Danko Arlington's first customers in the 1920's!
According to Ed Mullin, the Executive Director of the Baltimore Robotics Center, "the kids were really jazzed about the technology they saw at Danko Arlington, especially the 3D printers."
Tapping into the younger generation is crucial for American manufacturing to grow and prosper.  Many of Danko Arlington's employees started their apprenticeships at the age of eighteen.   Once a young person is hooked, entry jobs can easily result in life-long careers, especially in niche manufacturing such as metal casting.
The company looks forward to hosting more robotics students, especially during holidays and the summer months.   The League is a great place to foster relationships for the next-generation Baltimore manufacturers.
How ironic that one hundred year old railroad and foundry facilities in Baltimore have become living classrooms for aspiring engineers learning about robotics – the future of advanced manufacturing!