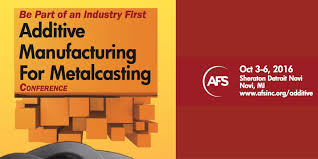 On Wednesday, October 5th, 2016, Danko Arlington was honored to present at the American Foundry Society's (AFS) first annual Additive Manufacturing Conference for Metal Casting (AM4MC) held at the Sheraton Detroit Novi in Novi, Michigan.
The keynote luncheon topic, entitled "Integration of Additive Manufacturing to Transform a Traditional Metalcasting Company," explained how Danko Arlington has evolved over the last century including its most recent adaptation of FDM patterns, core boxes, and outsourced 3-D sand printing.
The company is seeking to acquire a 3-D sand printer in the upcoming years. Being able to share ideas and network with AFS and other attendees about recent developments in additive foundry practices was invaluable.