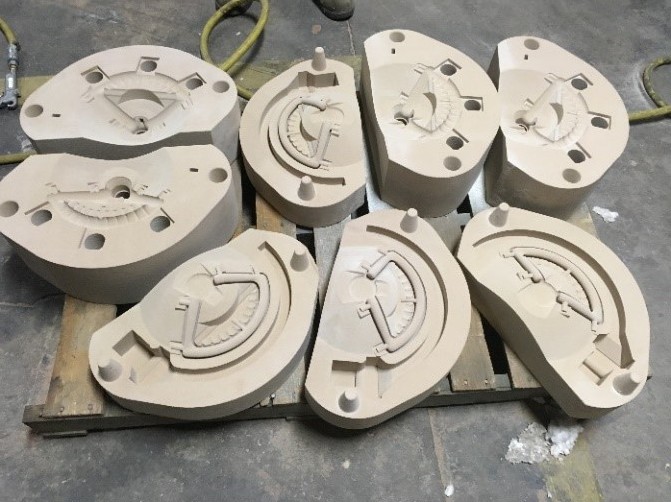 January 22, 2018
Within days of installing its new 3-D sand printer, Danko Arlington is already producing complex molds and cores, including some used for casting KC-135 steering wheels.
Developed by Boeing in 1956, the KC-135 is used for aerial flight refueling.  Even though the plane will soon be replaced by the newer KC-46A, it is expected to be used until 2040.  Like many older planes, ships, and military vehicles, KC-135's are constructed of thousands of parts produced from legacy tools and fixtures that are worn-out, expensive and difficult to procure — especially in small quantities.
For the past eight years, Danko Arlington has pioneered the use of 3-D fused deposition modeling (FDM) printing to create plastic foundry tooling. Sand with binder is rammed around the pattern, then removed to form a mold cavity.  Molten is then poured in the molds to produce a casting.
The company's new VX1000-PDB sand printer now bypasses the need for foundry tooling entirely.  Perfected by Voxeljet AG in Germany, the PDB sand process uses a robotic machine to precisely lay resin onto tiny layers of sand which are fused together with infrared heat.
3-D sand printing is just in its infancy.   It will no-doubt disrupt military and commercial casting supply chains.  In addition, it will enable casting prototypes, short runs, and even futuristic designs that could have never have been made from conventional tooling to be printed quickly and efficiently without human hands.
Danko Arlington is excited to steer the course ahead!