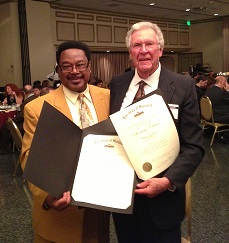 On March 26th, 2015,  two of Danko Arlington's longest tenured employees were recognized at the 25th Regional Manufacturing Institute (RMI) Anniversary — Decades of Dedication Gala held at Martins West in Baltimore.
Howard Goodrich was celebrated with 58 years of service — the longest serving employee at the event.  Mr. Goodrich began his employment in 1955 immediately after graduation from high school.  He entered the company's five year, ten thousand hour apprenticeship program for patternmaking, and eventually became the Pattern Shop Superintendent until he retired in 2013. He recently began working again part time.
Howard has unique woodworking skills that combine mold making, blueprint reading, machining, art, geometry, and true craftsmanship.  During his lifetime, he constructed thousands of patterns, including complex dredge pump patterns, scaled wooden hulls for ships and subs from eighteen foot mylar drawings for water tank testing at the neighboring Naval Surface Warfare Center.   His most famous model was of the Hugh's Glomar Explorer — a secret ship used by the CIA to recover a sunken Soviet submarine in the early 1970's which was the largest covert CIA operation in history.   Today, Howard's traditional patternmaking skills have become obsolete and are now replaced by CAD and 3-D printing technologies.
Mike Sherrill was also honored with thirty seven years of continuous employment at the company.  His duties include belt sanding, grinding, and sand blasting of aluminum and bronze cast castings for commercial and defense applications, including most of today's ships, tanks, and military aircraft.  Danko Arlington is proud of Mike's work and tenure.  He is a true role model in our industry who will certainly inspire young people today to find not just a job — but a career.
Danko Arlington is grateful for the many years of loyal and dedicated service from these special co-workers.  Both men were presented with citations from the newly elected Governor Hogan Administration for their outstanding achievement in Maryland manufacturing.