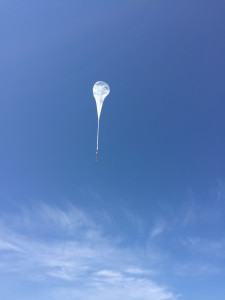 Credits: Contributed Photo / Near Space Corporation
 What's faster than 3-D printing at Danko Arlington?  How about a 3-D printed capsule that traveled to an altitude of 101,250 feet then dropped – reaching a speed of 370 mph during its decent!
On June 21st, 2015, a custom capsule printed at Danko Arlington and designed by Terminal Velocity Aerospace (TVA) of Atlanta, GA, was launched from a high altitude balloon in Tillamook, Oregon. During the over nineteen mile plunge, scientists monitored the effects of the reentry forces on capsule's contents including electronics, communication systems, and a stem cell sample.
Funded by NASA's Flight Opportunities Program based in the Armstrong Flight Research Center in Edwards, California, the tests already show great promise for the future of astronaut mail.   Soon, scientists will be able to use inexpensive capsules to return experiments from outer space even faster than overnight shipping!